Mâcon-Villages Chardonnay, Beaujolais, Bourgogne Côte Chalonnaise Pinot Noir, Montagny, Chénas, Brouilly, Viré-Clessé, Crémant de Bourgogne and many other vintages to discover…
Cooperative wine-growers
"La Burgondie" was the historical region of France that gave rise to the term Burgundy. Our 700 winegrowing families are enthusiastically committed to sustainable development. We know well our responsibility to society and offer a range of ethical, single-origin wines.
Vins de la Grande Bourgogne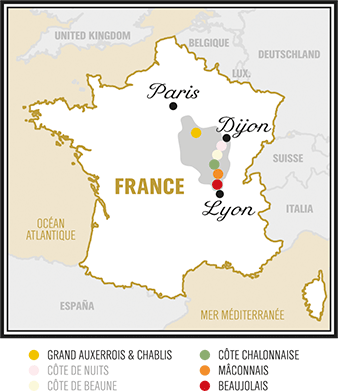 Together, we unveil Greater Burgundy!
Cooperative wine-growers! History and geography sealed our fates together, from Auxerrois in the north to Beaujolais in the south. Our life revolves around vines and wine. We have chosen to live busy lives that revolve around the seasons, our hopes, the weather, nature, patience, hard work, willpower, energy and more. We place this at the service of our family vineyards and the projects that we share with our cooperative partners. Our wines prove this on a daily basis. It is something that unites us, by which we express how attached we are to a collective spirit, how we worship diversity and defend a kind of art of living. Enjoy!